All Students at De Chantal are required to have their school supplies bought by the beginning of the school year. Grades 2nd through 8th are required to bring a set of Computer Headsets to school that will work with a school issued Chromebook.
All students PreK to Grade 8 will need a lunch box with small cloth placemat; backpack (no wheels); Clorox or Lysol Wipes, Kleenex Tissues, Hand Sanitizer and Paper Towels.
Please refer to the supply list by grade below.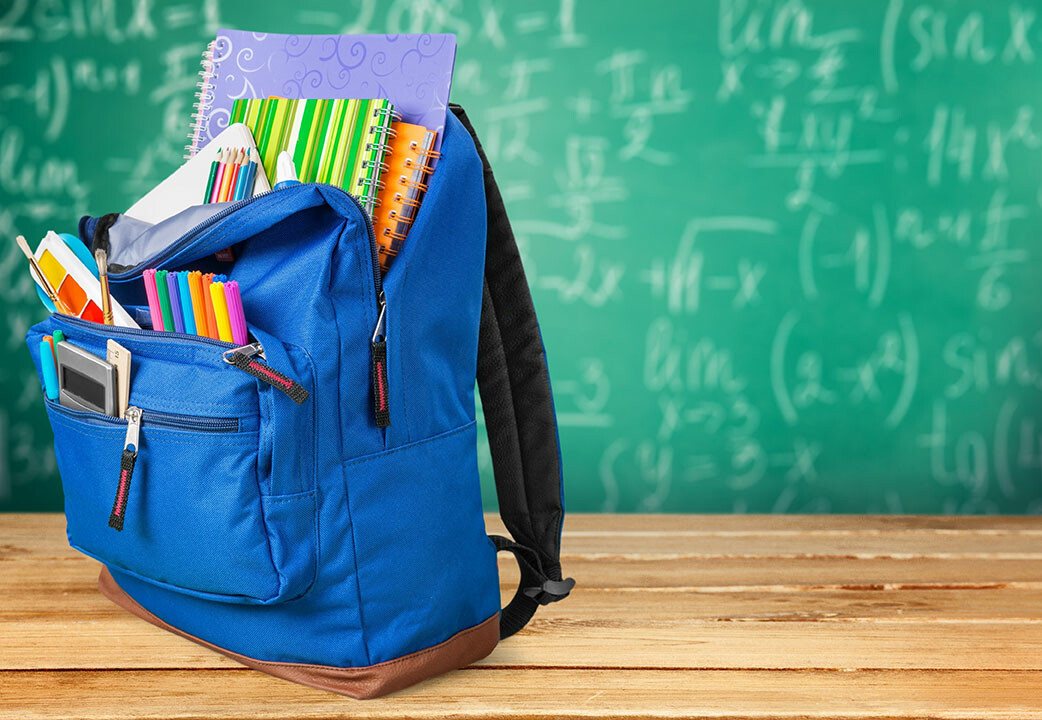 Kindergarten:
#2 Pencil Sharpened (12) Index card 3x5 100 count size (2 sets) One Yoga Mat or Beach Towel; Black Ultra Fine Tip dry-erase markers (2), 1 personal hand sanitizer; (Clorox wipes, Kleenex, paper towels)
1st Grade:
Crayola Washable Broad Tip Markers 8 count (1), Crayola Colored Pencils 12 count (1), Crayola Regular Crayons 16 count (2) Fiskars Scissors pointed tip (1), 12 inch plastic ruler (1), Plastic School Box 8x5 (1) White Index Cards 3x5 (1), highlighter (2) Soft Pink Eraser (2) Clear Contact Paper (2) Elmers Glue Stick (8) #2 Pencils Sharpened (24)
2nd Grade:
Crayola Regular Crayons 24 count (2), Crayola Washable Broad Tip Markers 10 count (1), Crayola Fine Line Markers, 10 count (1) Highlighter -yellow (1), Crayola Colored Pencils 12 count (1), Fiskars Scissors pointed tip (1), 12 inch plastic ruler (1), Plastic School Box 8x5 (1) White Index Cards 3x5 (3 sets), Soft Pink Eraser (2) Elmers Glue Stick (6) Elmers Glue 4oz (1) Ticonderoga #2 Pencils Sharpened (12), Pencil Sharpener for desk (1) (Clorox wipes, Kleenex, paper towels)
3rd Grade:
Crayola Twistable Crayon 8 Count (1), Crayola Washable Broad Tip Markers 8 count (1) Crayola Water Colors 8 colors (1), Fiskars Scissors pointed tip (1); 4 ONe Subject Spiral Notebooks (variety of colors); 3 Wide Rule Composition Notebooks; 12 inch Plastic Ruler (1) Plastic School Box 8x5 (1) Spiral Notebook 1 subject 70 Sheets (2) Blue highlighter (1) Pink highlighter (1) Clear Contact Paper (2) Elmers Glue Stick (4) Stretchable Book Cover Jumbo Size (4) White 3x5 Ruled Index Cards 100 count (4) Dixon #2 Pencils Sharpened (24) Laminated 2 Pocket Folder variety of colors (5) Wide Rule Composition Notebook (2) Pencil top erasers (5) or 1 big eraser, 1 box Gallon Ziploc Bags; 1 Box Sandwich Size Ziplock Bags, (Clorox wipes, Kleenex, paper towels)
4th Grade:
Crayola 48 count Crayons (1), Highlighter (1), Soft Pink Eraser (1), Fiskars Pointed Scissors (1), Plastic School Box 8x5 (1), 4 ; Package of wide ruled oose leaf paper (1); Pencil Eraser caps 5 count (2), Papermate Stick Pen - Red (2); Package of watercolor paints (1); Elmers Glue Stick (6), Clear Contact Paper (2), Stretchable Book Covers Jumbo Size (4), Dixon #2 pencils (12), Crayola Colored Pencils 24 Count (1), Crayola Supertips Markers Package of 20, Elmers Glue 7.5 oz (1), Expo Dry Erase Fine Tip Marker - Black (2), Mini Pencil Sharpener with Shaving Catcher (1), Scotch Magic Tape Roll on (1); (Clorox wipes, Kleenex, paper towels)
5th Grade:
Highlighters, Colored Pencils, Colored Markers, Ball Point Pens (5), Glue Stick (1), Pencils (5), Scissors (1), Composition Book Hard cover Black/White Marble (3), Lined Paper (1), One subject spiral notebooks (3) (1 each color Red, Yellow, Green), Supply Box/Pouch, Three Subject Spiral notebook (2), 100 pack ruled index cards 3x5 (3), Stretchable Book Covers Jumbo Size (5), (Clorox wipes, Kleenex, paper towels); Accordion folder helpful but not required
6th Grade:
Crayola Fine Tip Markers 8 Count (1), Expo Dry Erase Fine Tim Marker 4- color pack (1), Brite Liner highlighter (2), Crayola Colored Pencils - 12 count (1), Papermate Erasermate Pen Black (2), Papermate Erasermate Pen - Blue (2), Papermate Stick Pen - Red (2) 12 inch Plastic Clear Ruler(1), Elmers Glue Stick (3), Composition Book Hard cover Black/White Marbled (2), Lined Filler Paper Standard Rule Packet (2), Purple, Red, Yellow, Blue - One subject spiral notebooks (1 each color), Pencil Pouch or Box (1), 3 Subject Spiral notebook (1), Fiskars Pointed scissors (1), Laminated two pocket folder different colors (2), 100 pack ruled index cards 3x5 (2), Stretchable Book Covers Jumbo Size (6), #2 Pencils (24), Accordian Folder (1), 2-3 inch Binder or Case-It (1), 1 inch plastic binder (2) , (Useful, not required: small stapler and white-out) Clorox wipes, Kleenex, paper towels
7th Grade:
Crayola Fine Tip Markers 10 Count (1), Expo Dry Erase Fine Tim Marker 4- color pack (1), Brite Liner highlighter (1), White Out (2). Red Folder (1), Papermate Erasermate Pen Black (12), Papermate Erasermate Pen - Blue (3), Papermate Stick Pen - Red (2) 12 inch Plastic Clear (1) Plastic Protractor (1),Elmers Glue Stick (1), Composition Book Hard cover Black/White (2), Lined Filler Paper Packet 100 sheet (1), Graph Paper4x4 - 8x12 80 Sheets Pack (1), Red & Yellow One subject spiral notebooks (1 each color), Pencil Pouch, Green 3 Subject Spiral notebook (1) , Fiskars Pointed scissors, Laminated two pocket folder variety of colors (7), 100 pack ruled index cards 3x5 (2), Stretchable Book Covers Jumbo Size (6), #2 Pencils (24), 6 Pocket Plastic Accordion File Folder (1), 1inch 3-ring binder (heavy-duty type) (1), Looseleaf Dividers for binder (1), Fiskars Pointed scissors (1) (Clorox wipes, Kleenex, paper towels)
8th Grade:
Crayola Fine Tip Markers 8 Count (1), Expo Dry Erase Fine Tim Marker 4- color pack (1), Brite Liner highlighter (1), Crayola Colored Pencils - 12 count (1), Papermate Erasermate Pen Black (12), Papermate Erasermate Pen - Blue (3), Papermate Stick Pen - Red (2) 12 inch Plastic Clear (1) Plastic Protractor (1),Elmers Glue Stick (1), Composition Book Hard cover Black/White (1), Lined Filler Paper Packet (1),Graph Paper4x4 - 8x12 80 Sheets Pack (1), Red, Yellow, Blue One subject spiral notebooks (1 each color), Pencil Pouch, Green 3 Subject Spiral notebook (1) , Fiskars Pointed scissors, Laminated two pocket folder variety of colors (7), 100 pack ruled index cards 3x5 (2), Stretchable Book Covers Jumbo Size (6), #2 Pencils (24), 1inch 3-ring binder (heavy-duty type) (1), Looseleaf Dividers for binder (1) (Clorox wipes, Kleenex, paper towels)