Dear Parents,
Welcome to St. Jane de Chantal School! We are honored you are interested in our school for your child. St. Jane de Chantal has been educating children for over seventy years. We are proud we now have families with three generations of children who have walked our halls. We encourage you to come and visit our classrooms, this is where you will feel the warmth in our school as the children and teachers interact. Although, academics are a priority and teachers are dedicated to the educational success of each child, we also value the whole child. We recognize that our students will spend their childhood with us and we strive to cultivate a sense of curiosity and discovery in the children.
As a guiding principle, we encourage our students to think, as they study and enrich themselves academically, we encourage our students to believe in God and themselves and to become faith-filled people with a tradition and willingness to serve others. Throughout their years at St. Jane de Chantal, we want all children to grow in mind and spirit and feel they are known and loved.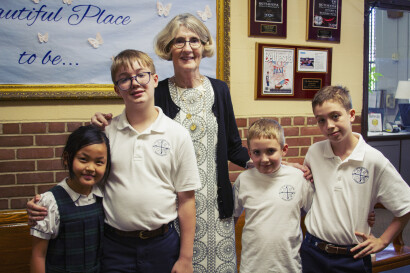 During the school year at St. Jane de Chantal you will have the opportunity to be a Parent Volunteer. We encourage and cultivate a strong bond between parents and teachers at St. Jane de Chantal. Our families become valued, reliable members of the school community. Parents are welcome to volunteer as needed and at after school events. We appreciate the role parents play in making our school community vibrant.
Whether you are looking to join our school for Pre-K or for middle grades, take time to look at our website. You will get a sense of who we are and why our graduates often tell us "De Chantal became a part of who I am…." If you are interested in scheduling a tour and completing an application, please contact us at 301-503-1221.
We hope to have you and your children join the St. Jane de Chantal School Family.
Sincerely.

Elizabeth Hamilton, Principal